2020 Honda Civic Type R
Since its 2017 debut, 13,000 individually numbered Honda Civic Type Rs have found their way into enthusiasts' embraces. We lived with a 2018 "CTR" for a year and didn't want to give it back. A mild update occurred in 2019, but for 2020, substantive changes make our favorite hot hatch even better. To answer your first question: "Does the 2020 Honda Civic Type R get a boost in power?" No, the 2.0-liter Vtec turbo-four makes the same 306 horsepower and 295 lb-ft, which is plenty. Yet the no-options singular-trim CTR gets a modest $695 price increase over last year, but that nets a host of hard- and software upgrades and an additional, exclusive Boost Blue paint job.
Magic Carpet: the 2020 Honda Civic Type R Adaptive Dampers
The 2020 Honda Civic Type R begs the question: How in your face is too in your face? The winged hatchback's exaggerated bodywork isn't easy for everyone to love, but its incredible chassis and terrific Vtec turbocharged engine certainly are. With 306 horsepower and a monogamous manual transmission, Honda's four-cylinder powertrain is powerful and engaging. While we wish it sounded as menacing as the Hyundai Veloster N, the super Civic proves there's no substitute for massive cornering grip and gobs of driver feedback.
The front-drive hot hatch is also saved from the dreaded torque steer, and its ride doesn't have the rock-hard tendencies that the old Ford Focus RS had. In fact, the Honda could even be called civil if it weren't for its gratuitous styling. Still, the 2020 Honda Civic Type R is a generational talent that is affordable, fun, and practical. Everyone loves Vtec!
What's New for 2020?
For 2020, Honda sprinkles some updates into the Civic Type R recipe. The most noteworthy upgrades include new brake rotors and pads that aim to inhibit fade during hard braking, revisions to the front suspension that Honda says improves steering feel, and other suspension changes such as retuned dampers. The 2020 Honda Civic Type R also adds synthetic engine noise that is said to alter intensity with the different drive modes.
There are also superficial updates that include a larger front grille opening that's supposed to aid engine cooling and a new Boost Blue paint color. Its interior receives a steering wheel wrapped in faux suede instead of leather; the shifter has been redesigned and given shorter throws. Oh, and in case anyone wished the Type R had driver assists (we sure didn't) the 2020 model year gets a suite of them courtesy of the newly standard Honda Sensing package.
Honda unveiled a lightweight, Limited Edition Type R that will go one sale as a 2021 model; a redesigned Civic Type R is expected to bow for the 2022 model year.
Pricing and Which One to Buy
The 2020 Honda Civic Type R costs $720 more than the 2019 model, which is a bargain for the myriad improvements the latest version receives. The Honda also has few hot hatches with similar performance now that the Focus RS is dead and the next-gen Volkswagen Golf R is in limbo. The two most similar alternatives are the Veloster N and Subaru WRX STI, but the Type R has proven it's really in a class of its own.
Honda supplies every version with a host of enticing standard features that include adaptive dampers, Apple CarPlay and Android Auto compatibility, built-in navigation, front sport seats, passive entry, and more. The Type R also can be personalized with a handful of exterior and interior accessories should shoppers want to add cargo organizers, a wireless phone charger, etc.
Engine, Transmission, and Performance – Civic Type R Has It All
The 2020 Honda Civic Type R looks like something the devil himself spat on the asphalt, and it goes like a bat out of hell, too. Its exclusive turbocharged four-cylinder makes 306 horsepower and 295 lb-ft of torque. The eager engine always feels alive with a responsive throttle and imperceptible turbo lag. A short-throw six-speed manual is also on hand and the only transmission choice. The Honda's easy clutch action and precise shifter are as perfectly synchronized as a pair of figure skaters.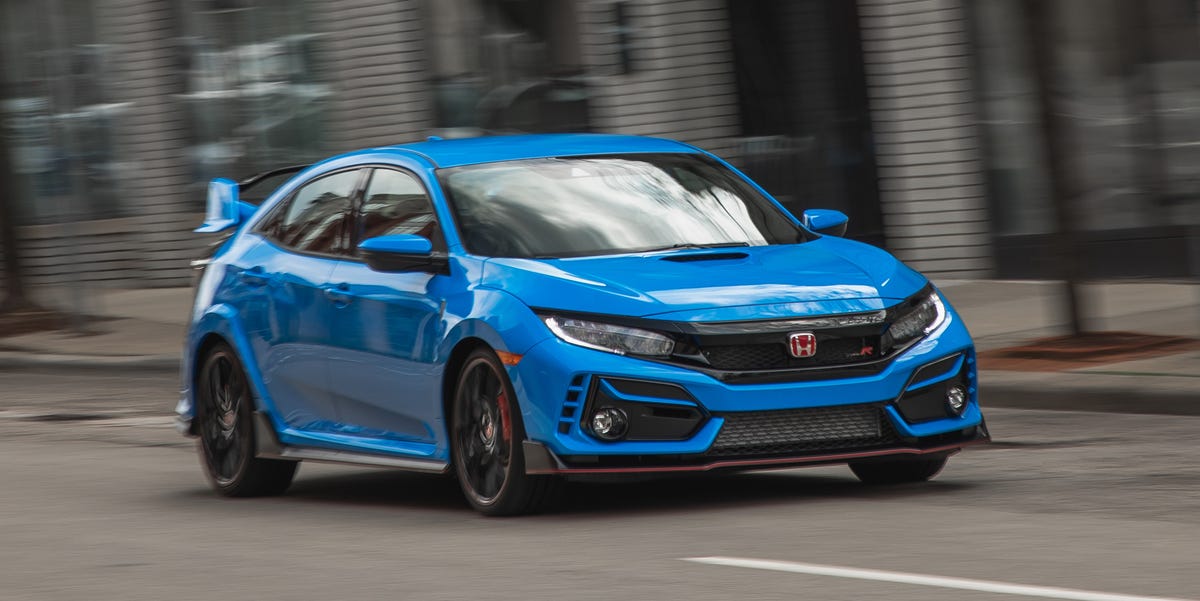 Too bad the triple-pipe, center-exit exhaust isn't as loud as the exterior styling. Sure, its innocuous note is appreciated on long trips, but we want more roar in a car that looks and drives like this one. The Type R is that rare type of car with terrific track ability and amicable road manners. It sticks to the road like bionic Velcro, with steering telepathy that would embarrass Miss Cleo and a chassis seemingly tuned by a Formula 1 engineer. Remember to check your transmission fluid!
Although its suspension is stiffer than the sporty Civic Si's, the R-rated version is still surprisingly comfortable—especially compared with the hard-riding Focus RS.
It's only slightly impolite on rough roads or over harsh bumps, where the 20-inch wheels and low-profile tires yield loud impacts. The Honda's immense grip was exhibited on our skidpad, where it pulled 1.02 g's—an impressive feat for any car, let alone one with front-wheel drive. The 2020 Honda Civic Type R set the bar even higher with its astonishing emergency-braking distance (70 mph to zero) of 142 feet, which equals that of the $200,000 Acura NSX supercar we tested.