Toyota Buyer Specializing in all Toyota Models
We will buy your Toyota. We will buy any model Toyota, and make immediate payment for your automobile. If you are looking to sell your Toyota, we will buy your Toyota regardless of the mileage or condition of the car. Our expert Toyota staff can help you with the entire process of selling your vehicle. For more details and to receive a valuation on your car, simply enter your vehicle information online.
You do not need to worry about trying to sell your Toyota on a classified website or advertisement. Let us buy your Toyota using our safe and easy system and receive immediate payment for your car. We offer first class customer service and we will pay fair Toyota market value for your car. Sell my Toyota now!
Sell my Toyota today for instant cash
Toyota has been a trusted car manufacturer since 1936. The Toyota Motor Company is the largest car manufacturer worldwide and has created some of the worlds most reliable and affordable automobiles. Some of the most popular Toyota models have been the Toyota Camry, Toyota Tercel, and Toyota Corolla.
Toyota has also created a truck line including the Toyota Tundra, Toyota Tacoma and the T100. Toyota also offers smaller sized pickup trucks. Toyota has created minivans that were widely popular in the 1990's and 2000's. The Toyota Sienna was a popular minivan model. The Toyota 4Runner and Land Cruiser have been amongst their bestsellers. The recent FJ cruiser is a great off-road vehicle that has seen much success.
Sell My Toyota 4Runner
Sell My Toyota Avalon
Sell My Toyota C-HR
Sell My Toyota Camry
Sell My Toyota Camry Solara
Sell My Toyota Celica
Sell My Toyota Corolla
Sell My Toyota Echo
Sell My Toyota FJ Cruiser
Sell My Toyota Highlander
Sell My Toyota Land Cruiser
Sell My Toyota Matrix
Sell My Toyota MR2
Sell My Toyota Paseo
Sell My Toyota Previa
Sell My Toyota Prius
Sell My Toyota Prius V
Sell My Toyota RAV4
Sell My Toyota Sequoia
Sell My Toyota Sienna
Sell My Toyota Supra
Sell My Toyota T100
Sell My Toyota Tacoma
Sell My Toyota Tercel
Sell My Toyota Tundra
Sell My Toyota Venza
Sell My Toyota Yaris
Company History

Toyota Motor Sales, U.S.A., Inc., was formed Oct. 31, 1957, establishing its headquarters in a former Rambler dealership in Hollywood, Calif. Sales began in 1958 and totaled a modest 288 vehicles – 287 Toyopet Crown sedans and one Land Cruiser.
Enthusiasm turned to gloom when it was found that the Toyopet, a sturdy vehicle with quality features and room to spare, was woefully underpowered and overpriced for the American market.
Toyopet sales stalled and were discontinued in 1961. The legendary Land Cruiser, which quickly gained a reputation as a durable, all-terrain vehicle, carried the Toyota flag in the United Sates until 1965 when the Toyota Corona arrived.
Corona, the first popular Toyota in America, was designed specifically for American drivers. With a powerful engine, factory-installed air conditioning and an automatic transmission, Corona helped increase U.S. sales of Toyota vehicles threefold in 1966 to more than 20,000 units.
As more Americans discovered the quality and reliability of Toyota products, sales continued to soar. By July 1967, Toyota had become the third-best-selling import brand in the United States.
The thrifty Corolla was introduced in 1968 and, like the Corona, was a huge success with American drivers. Corolla has since become the world's all-time best-selling passenger car, with over 30 million sold in more than 140 countries.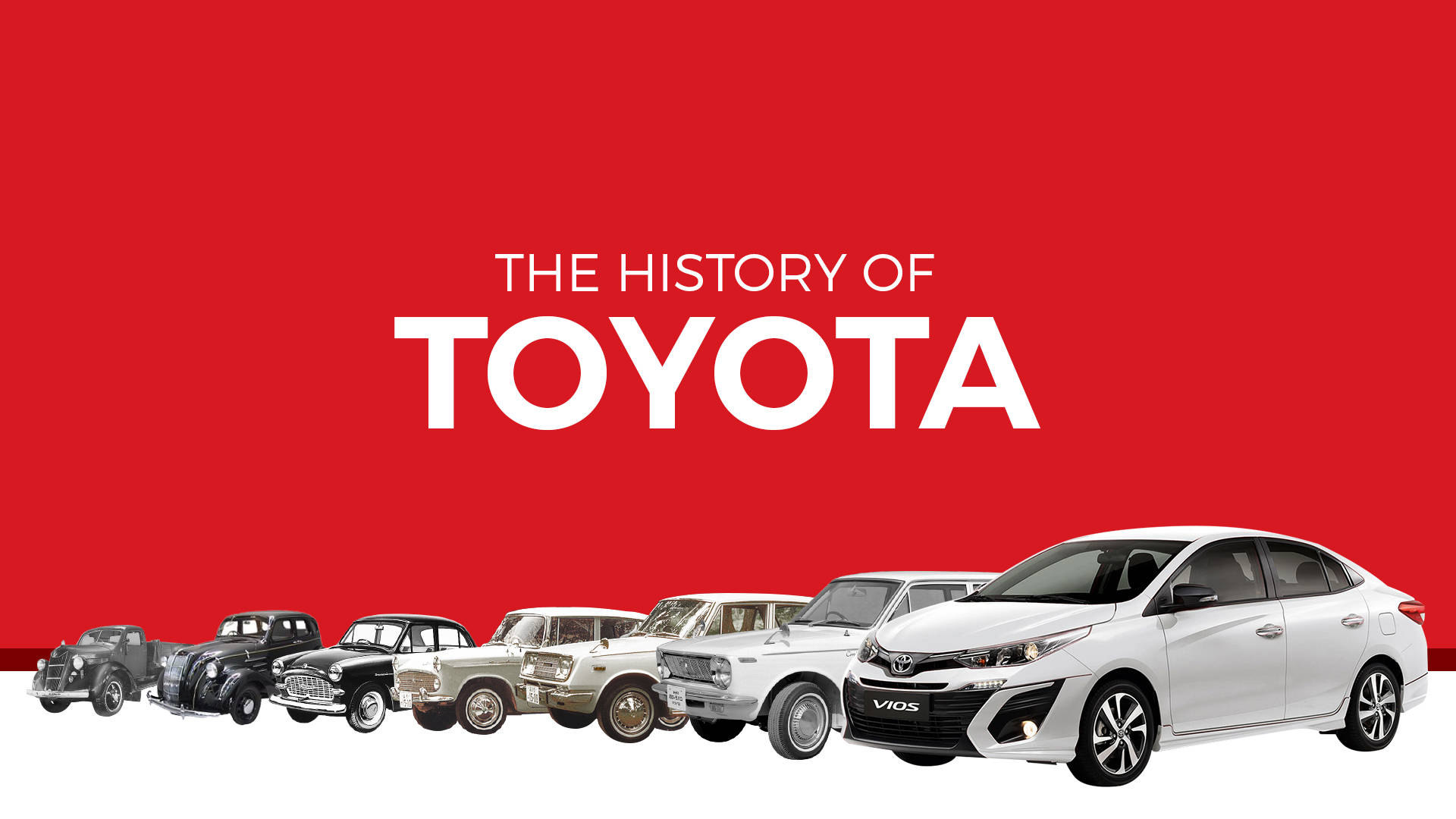 In 1972 Toyota sold its one-millionth vehicle. By the end of 1975, Toyota surpassed Volkswagen to become the No. 1 import brand in the United States. Three years later, in 1978, Toyota won the "Import Triple Crown" by leading all import brands in sales of cars, trucks and total vehicles.
During the 1970s, Toyota launched some of its most memorable marketing campaigns, using tag lines that included "You Asked For It/You Got It!" and the hit "Oh What A Feeling!" campaign that included the popular "Toyota Jump."
As Toyota celebrated its 25th anniversary in America during 1982, it opened a new national sales headquarters complex that it occupies today in Torrance, Calif. Toyota's success continued, and in 1986, it became the first import automaker to sell more than one million vehicles in America in a single year, racking up sales of 1,025,305 cars and trucks.
That year also marked the company's debut as a manufacturer in the United States, with the rollout of the first Toyota car built on American soil. The vehicle, a white Corolla FX16, was produced on Oct. 7, 1986, at the New United Motor Manufacturing, Inc. plant, a joint venture with General Motors.
Since then, Toyota has established many other vehicle and parts plants in North America. By the end of 2011, Toyota will operate 14 plants across North America, including facilities in the states of California, Kentucky, Indiana, West Virginia, Alabama, Tennessee, Texas, Missouri and Mississippi.
As Toyota's presence in America grew, the company sought a larger role in communities across the nation. So, to commemorate the company's 30th anniversary in America in 1987, Toyota established the Toyota USA Foundation with a $10 million endowment and a mission to make Toyota a leading corporate citizen.
In 1989, Toyota branched out by establishing a luxury line of vehicles with the debut of the Lexus LS 400 and the ES 250. Highly acclaimed cars, plus exceptional customer service, quickly became the hallmark of Lexus.
In 1991, Lexus earned the title of No. 1 luxury import in the United States, surpassing both Mercedes Benz and BMW. That year, the brand also dominated three independent J.D. Power and Associates quality surveys, being named top nameplate in Customer Satisfaction, Sales Satisfaction and Initial Quality.
Toyota continued its strong growth through the 1990s. A highpoint came in December 1997 when the Toyota Camry first earned the title of No.1-selling passenger car in America. Toyota also launched its first full-sized pickup, the Tundra, in 1998.
Toyota marked the start of the new millennium with the launch of the Prius, the world's first mass-produced gas/electric hybrid car. Prius, which in Latin means "to go before," was revolutionary, featuring an EPA-estimated fuel economy rating of 45 city/51 highway and ultra-clean tailpipe emissions that were 90 percent less in smog-forming gases than conventional cars at the time.
By the end of 2000, following its tag line, "The Relentless Pursuit of Perfection," Lexus edged out Mercedes Benz by 423 units to become the top-selling luxury brand in the United States, a position it has held for ten years running.
May 2001 marked the incorporation of Toyota Motor Sales de Mexico, Toyota's new sales and marketing subsidiary in Mexico. By the end of the year, Toyota had grown to become the third-best-selling automotive brand in the United States, surpassing Dodge with best-ever sales of 1,741,254 vehicles.
In December of 2002, Toyota delivered its first two zero-emission, market-ready hydrogen fuel cell vehicles to customers in California for real-world testing. The next year, Toyota's new, breakthrough hybrid technology, "Hybrid Synergy Drive," debuted in the all-new 2004 Prius.
Toyota's growth in America continued in 2003 when Toyota launched Scion as its third line of vehicles. The Scion line featured three modestly priced but feature-rich vehicles brought to market by most Toyota dealers under an innovative, youth-oriented marketing program. Scion was a success, and in 2004, Toyota's U.S. sales topped two million vehicles per year for the first time.
In 2005, Toyota continued expanding its environmentally advanced lineup with the introduction of the world's first luxury hybrid, the Lexus RX 400h, and a hybrid option for the Toyota Highlander.
Toyota added a hybrid option to its popular Camry sedan in 2006 and began building it in the United States at its massive Kentucky plant. The company also opened up its 10th U.S. plant in San Antonio, Texas, to build pickups.
In addition, the company launched the FJ Cruiser with a design that harkens to the early years of the rugged Land Cruiser, the only vehicle Toyota has continuously sold throughout its entire 50-year history in America. As a result, sales surged to more than 2.5 million for the first time and Toyota established itself as the third best-selling automotive company in the United States.
During 2007, its 50th year in America, Toyota introduced its largest pickup truck ever, the rugged 2008 Toyota Tundra, as well as the second-generation of its iconic Scion xB urban utility vehicle and the world's first V8 hybrid, the Lexus LS 600h.
As a result of an economic recession, Toyota's sales were down in 2008, but the Toyota brand outsold Chevrolet to become the No. 1-selling automotive brand in America, and Camry retained its crown as the No 1-selling car in the nation for the 11th time in 12 years. Toyota also passed General Motors in global sales to become the world's largest automaker for the first time in history.
In 2009, Toyota launched two all-new gas/electric hybrids, the third-generation Prius with an estimated EPA fuel-economy rating of 50 miles per gallon in combined driving, and the first dedicated hybrid from Lexus, the HS 250h.
Lexus also introduced the all-new, second-generation GX 460 luxury utility vehicle and the next generation of its trend-setting RX luxury utility vehicles, the V6-powered RX 350 and the hybrid RX 450h. By the end of the year, total combined sales of Toyota and Lexus hybrids in the United States topped the one million mark.
In addition, Toyota Motor Sales, U.S.A., Inc. received an environmental achievement award from the EPA's Pacific Southwest Region Office. Toyota announced a safety recall in November to address concerns that unsecured or multiple floor mats could entrap the accelerator pedal on certain Toyota vehicles.
During 2010, Toyota began production of the third-generation Sienna at its Indiana plant, however, in late January, Toyota briefly suspended sales of eight models while it developed a fix for a rare potential safety issue – sticking accelerator pedals. A fix was rolled out in early February but heavy news coverage of the situation and additional recalls led to Congressional hearings and the company paying three federal penalties.
Toyota took major steps during the year to improve communications and the quality and safety of its vehicles. However, the intense media coverage combined with the lingering effects of the recession weakened results with the company reporting a slight 0.3 percent drop in sales for the year.
Despite the setbacks, Camry retained its title as the best-selling passenger car in the United States, Toyota was still the No. 1 retail brand, Lexus remained the No. 1 luxury brand, and Toyota's brand conquest rates returned to historically high levels.
On March 11, 2011, a 9.0 magnitude earthquake struck the Tohoku region of Japan. It was the most powerful earthquake to ever hit that country followed by a tsunami that claimed the lives of nearly 16,000 people.
Entire cities were destroyed and many businesses were shut down, including four Toyota plants. As production started returning to former levels, floods in Thailand halted production in two more plants. But, despite these natural disasters, production returned to near-normal levels by the end of the year, a testimony to Toyota's resiliency and efficiency.
Toyota, along with its Lexus and Scion brands, continued to move forward in 2011 with new and redesigned vehicles. Toyota unveiled a bigger and more diverse Prius family of vehicles, including the third-generation Prius liftback, the Prius Plug-in Hybrid, the larger Prius v and the smaller Prius c concept vehicle.
Additional Toyota vehicles revealed in 2011 included the next generation 2012 Yaris liftback and the completely redesigned 2012 Camry. Lexus introduced the CT 200h, a premium compact hybrid that earned a Top Safety Pick award from the Insurance Institute for Highway Safety.
Later in the year, Lexus took the wraps off the all-new 2013 GS 350, GS 450h and GS 350 F SPORT with the bold new face of Lexus. Meanwhile, Scion introduced the 2012 iQ, which along with the Toyota Camry and Scion tC, won five star crash test ratings from the National Highway Traffic Safety Administration.
Other 2011 milestones included the sale of the one-millionth Toyota Prius in the United States, and Toyota Motor Manufacturing Kentucky celebrated 25 years of production in Georgetown, Kentucky. Toyota also expanded its vehicle manufacturing in the United States and created 2,000 American jobs by beginning production of the Corolla at the newly opened Toyota Motor Manufacturing, Mississippi plant.
Through the strong efforts of its associates in Japan and around the globe, Toyota recovered rapidly from the supply disruptions caused by the natural disasters, and in 2012 began regaining its sales momentum as dealer inventories were fully restocked.
By mid-year, U.S. sales of Toyota, Lexus and Scion vehicles had sped past the one-million-sales mark, something that had not happened until mid-August the prior year because of short supply. In fact, starting in March, Toyota was once again the No. 1 retail brand in the United States. The company's resurgent U.S. sales were driven in large measure by the launch of a record number of 19 new and redesigned products.
Also contributing to the company's recovery, five Toyota and Lexus vehicles captured segment awards and five Toyota manufacturing facilities won plant awards in the annual J.D. Power and Associates Initial Quality Survey. In addition, Toyota models earned five out of the 10 top spots in the Consumer Reports' 2012 Top Picks, the first time in nearly a decade that a single brand had captured half the categories.
And a total of 17 Toyota, Lexus and Scion 2012 models earned Insurance Institute for Highway Safety Top Safety Pick Awards.
In 2013, Toyota, Scion and Lexus were recognized throughout the auto industry for being the best. Lexus was ranked the highest of any luxury brand in J.D. Power and Associates' Customer Satisfaction Index.
The luxury brand also captured the top position in J.D. Power's Vehicle Dependability Study for the 2nd consecutive year, while seven Lexus, Toyota, and Scion models captured segment awards, more than any other automaker. Toyota also was recognized by the U.S. Environmental Protection Agency with its ninth consecutive Energy Star Partner of the Year award.
Also in 2013, Toyota marked several manufacturing highlights, including: the 10 millionth powertrain produced at Toyota Motor Manufacturing, West Virginia, Inc., (TMMWV) as well as the assembling of the 1 millionth truck at Toyota Texas.
There were also major milestones in sales. Prius surpassed 3 million units sold worldwide, while the Camry celebrated its 30th anniversary and passed the 10 million mark in the U.S. Toyota acknowledged these historic milestones while looking to the future with the introduction of the third-generation Lexus IS Sports Sedan and Toyota Highlander.
The big news in 2014 was the announcement on April 28 that Toyota is establishing a new headquarters in North Dallas (Plano), Texas for its North American operations. This move is designed to better serve customers and position Toyota for sustainable, long-term growth.
At the same time, Toyota will expand the Toyota Technical Center (TTC) in Michigan to accommodate the relocation of direct procurement from Erlanger, Ky., to its campus in York Township near Ann Arbor.
Toyota also announced that 7,500 Mississippi-built Corollas were to be exported to 18 countries in Central and South America and the Caribbean. Nine U.S.-assembled Toyota models from the company's four U.S. vehicle assembly plants are now exported to 32 countries around the world. Toyota also celebrated the 10-millionth vehicle assembled at its Georgetown, Ky., plant.
In 2014, Lexus also turned concept vehicles into production vehicles as their lineup expanded with the launch of the new NX compact crossover and the RC Coupe and RC F Performance Coupe.
At the end of the year, Akio Toyoda made another major announcement with an eye towards the future as he introduced the Mirai (which literally means "future" in Japanese), a groundbreaking vehicle that can travel up to 300 miles on a single tank of hydrogen, refuel in less than five minutes, while emitting only water vapor.
Toyota kicked off 2015 formally breaking ground on its new North American headquarters in Plano, Texas and 5 months later broke ground on the expansion of the Toyota Technical Center (TTC) in York Township, Michigan.
In manufacturing, the first Lexus product (ES sedan) assembled in the United States rolled off the line at the Kentucky plant. Toyota Mississippi also celebrated the 500,000th Corolla coming off the line, Toyota Indiana produced its 4 millionth vehicle, and Toyota Motor Manufacturing, Alabama welcomed the arrival of the 4 millionth engine.
Toyota, Lexus and Scion all continued to move forward in 2015 with the introduction of the Mirai, Lexus GS and Scion iA and iM, while garnering more awards as the three brands took home seven J.D. Power vehicle segment awards.
And the Lexus brand captured a grand slam by ranking highest in vehicle dependability among all nameplates for a fourth consecutive year in the 2015 J.D. Power and Associates Vehicle Dependability Study.
Toyota closed out 2015 with yet another major announcement as Toyota Motor Corporation stated that it will establish a new company, Toyota Research Institute Inc. (TRI), as an R&D enterprise with an initial focus on artificial intelligence and robotics.
The headquarters will be located in Silicon Valley near Stanford University in Palo Alto, California, U.S.A. In addition, a second facility will be located near the Massachusetts Institute of Technology (MIT) in Cambridge, Massachusetts, U.S.A. The new company will begin operations in January 2016.